Happy Hump Day Pumpkins!!
I haven't done a blog swap in awhile, so when I saw these three fab
bloggers hosting one, I figured it'd be fun to participate.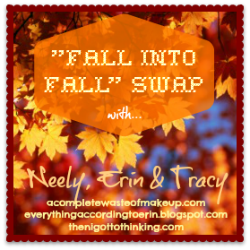 I was lucky enough to be partnered up with a sweet Southern girl Caitlin.
Her blog
Is already one of my new favorites!
You must go check her out.
Her style is fabulous, her outlook on life is refreshing, and she has an artful eye.
We exchanged a few quick e-mails and both shared a similar love for the Fall,
and wanted to be surprised with whatever goodies the other chose.
Well, I got lucky!!
My package arrived last Monday and I was ecstatic to open it!
A handmade card,
tiny glittery leaves,
pretty wrapped gifts,
all safely nestled in the box.
I received two gorgeous bottles of polish.
Perfect shades for the Fall and I was excited to try this brand, as I haven't before!
Here is
Fine Pruned
:
I applied it Saturday and it still looks awesome today [Wednesday]
I'm very pleased with the color, so perfect for Fall, and it's holding up very well!
A Fall scented candle...
Which found its way right into our foyer on a small table.
I just love having a fresh seasonal scent when guest arrive!
I'm obsessed with makeup and this was a perfect gift!
A tinted chapstick--I highly recommend!
It's way darker than what I anticipated
I may have put it on before bed and my hubs was like, whoa.
So it's perfect for going out and about!
Sans the weird lipstick tastes a lot of colored shades give.
And my favorite part of the package were these adorable glittery gold pumpkins.
It was truly a perfect
It's fun to take a chance and participate in a swap.
I think it's a fantastic way to try new products that I normally wouldn't buy.
I am already hoping for an Ulta beauty trip this weekend!!
Can you believe I've never really bought anything from one before?
Yeah, thanks to Cait, that's probably going to change!
If you're interesting in seeing the goods I spoiled her with,
go check them out here!